BigCommerce
This article shows you the procedure to enable PayU on your BigCommerce website.
BigCommerce is a digital commerce platform that allows you to quickly create an online store with ready-to-use functionalities. For more information, take a look at the official BigCommerce page: BigCommerce webpage.
Prerequisite
You need an active account in PayU Latam.
You need an account with BigCommerce.
How to install the extension
Install the app from the BigCommerce Marketplace by clicking the install button.

Click the checkbox and click the 'Confirm' button to install the app.
How to use this extension
The app interface appears as follows:
App Interface Screen: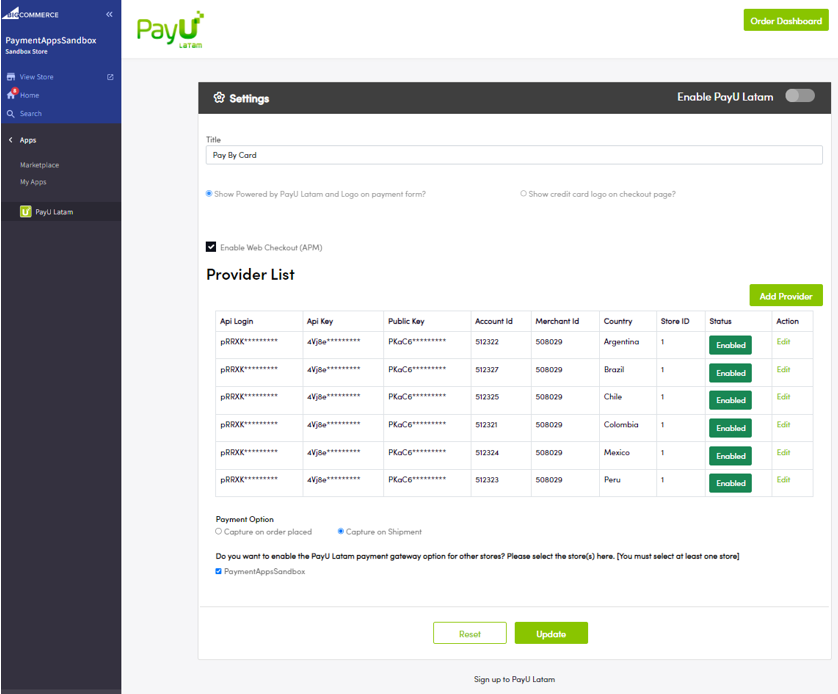 The 'Enable PayU Latam' option allows the user to enable/disable the app on the BigCommerce store.
Enable PayU Latam option:

Click to enable the extension:

Allows the user to set a custom title that is visible on the Checkout page (e.g. Pay By Card).
Title:

The two display options visible as radio button (single selection) options are:
• Show Powered by PayU Latam and Logo on payment form?
• Show credit card logo on checkout page?
Display options:

If the merchant wants to allow alternative payment methods (cash and bank transfers) select the 'Web Checkout' option for PayU Latam.
Web Checkout (APM):

Use the 'Add Provider' button to add the provider for a specific PayU Latam country. Each provider can be enabled/disabled from the grid using the respective status button. You can also click 'Edit' to update the credentials.
Provider List:

To add a new provider, specify the following mandatory fields:
• Select Payu Latam country
• API Login
• API Key
• Public Key
• Account ID
• Merchant ID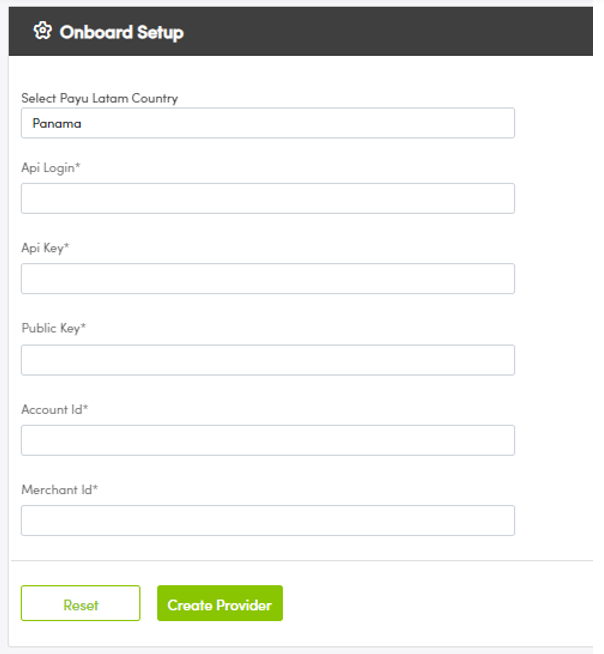 The two radio button (single selection) options for credit card payment are:
• Capture on order placed – for immediate payment
• Capture on shipment – awaiting payment fulfilment
Payment Options:

Multistore options will be visible below the payment options section:

To access the Order Dashboard, click the 'Order Dashboard' button.
Order Dashboard:

The Order Dashboard grid will show the payment statuses for the order placed.

To process a refund, click the 'Refund button' on the Order Dashboard grid item.
Refund: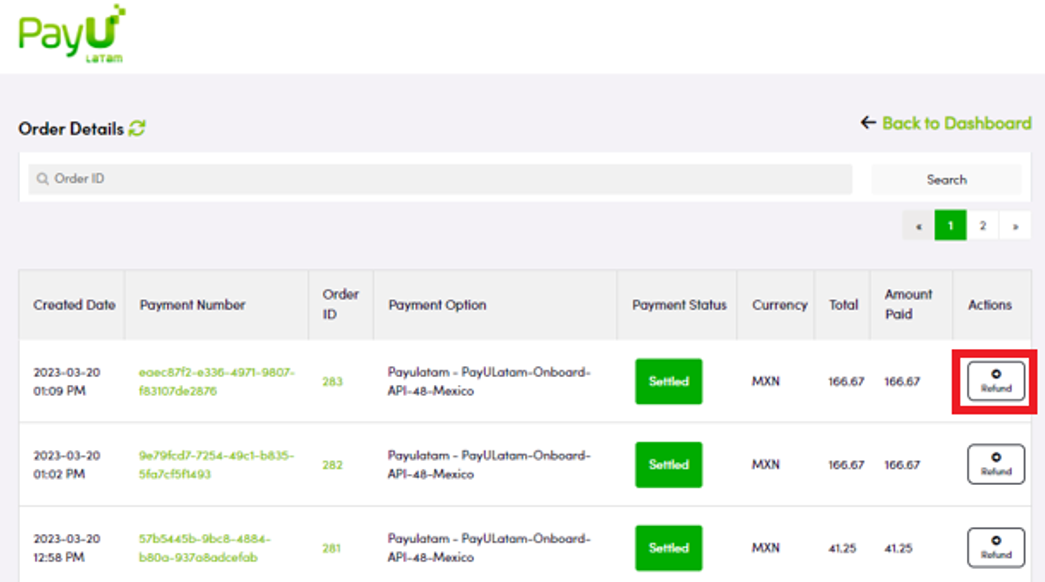 As an example, if the shipping is to Argentina, then select Argentina from the drop down country options.
Checkout Country Selection: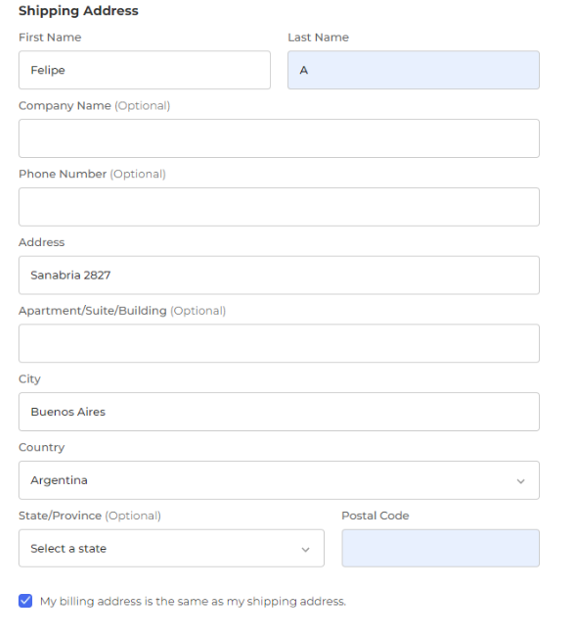 At the store checkout, customers have the option to select their payment method.
Checkout Payment Selection:
• Pay By Card: Specify the card details, then click the 'Pay By Card' option.
• Pay By Web Checkout:
A. Click the 'Pay By Web Checkout' button.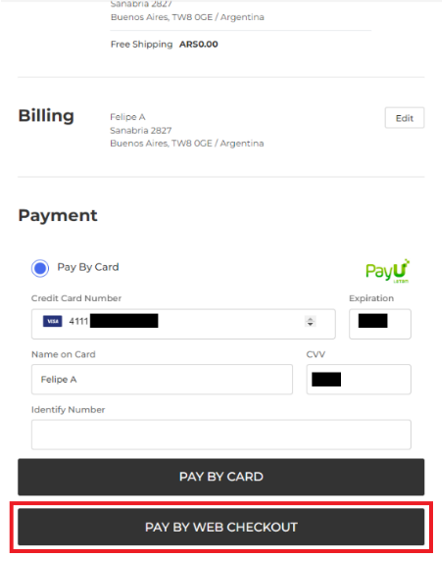 B. Select the payment method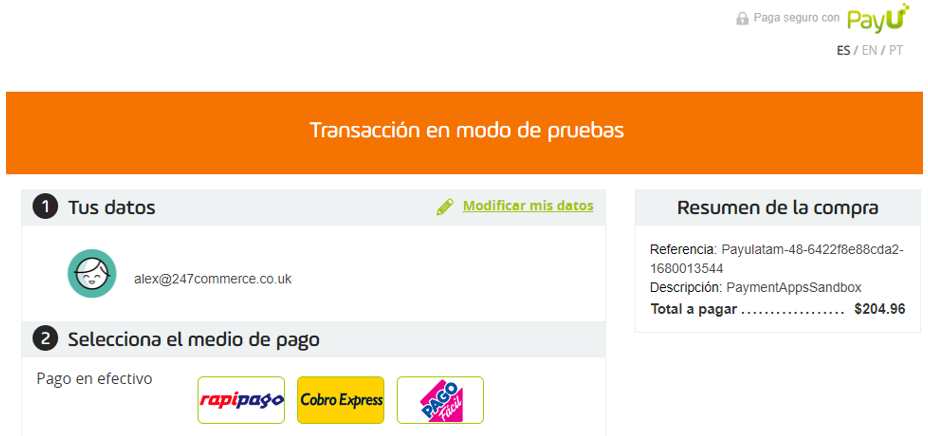 C. Provide the details and click the button below to confirm payment.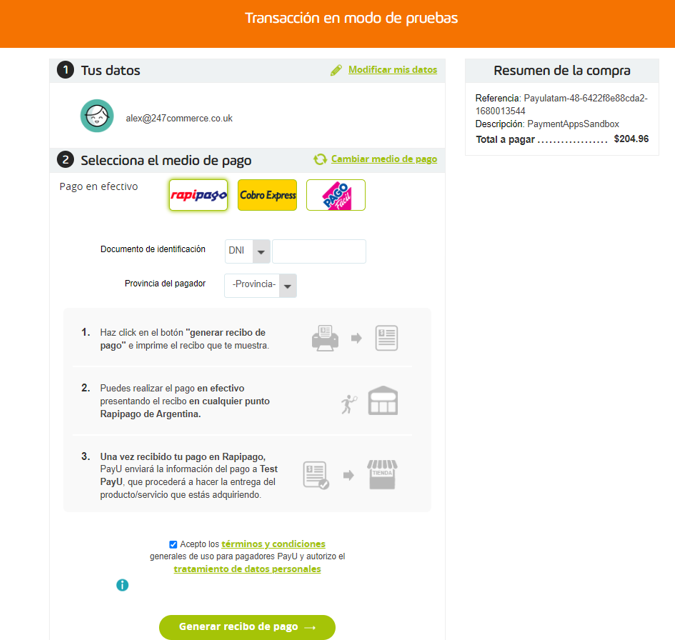 Support Options:
If you experience a technical issue or have any questions about this extension, please contact our support team on tecnico.co@payu.com or by visiting our website at https://colombia.payu.com/contactanos/. If you choose to email us, please provide details of the extension being used in the subject field and a summary of the issue you're experiencing in the body copy.
Last modified May 23, 2023: BigCommerce Section (8d74ac94)